Appuntamento con i più grandi professionisti dell'immagine ad Art Photo Travel, a Siena.
Un festival fotografico di grande rilevanza per il photo reporting internazionale, Art Photo Travel, ha finalmente fatto tappa in Italia, nella meravigliosa cornice della città di Siena.
La proposta dell'appuntamento 2016 della mostra, che ospita nomi importanti della fotografia nazionale ed internazionale, include nomi già noti agli addetti ai lavori, tra cui Francesco Cito, foto-giornalista premiato con un award al merito, e Luca Bracali, fotoreporter che, munito di coraggio e fotocamera, è arrivato in vetta al Polo Nord geografico a bordo dei suoi sci.
La possibilità di incontrare all'Art Photo Travel Festival questi nomi fa da anticamera all'interesse per la fotografia nella sua espressione più immediata e probabilmente potente, ovvero il report fotografico e il giornalismo d'impatto.
Non mancano anche gli spazi devoti a mostre come Beyond the Lens, esposizione collettiva di fotografie ed interi servizi fotografici in concorso che riguarderanno categorie popolari come architettura, sport, natura, vita all'aperto, persone ed ovviamente viaggi, in particolar modo di ampio respiro internazionale.
Art Photo Travel: quando fotografia di viaggio e cronaca si incontrano
Art Photo Travel è un'opportunità più unica che rara, inoltre, per scoprire come fotografia di paesi, situazioni e persone e cronaca giornalistica possano convergere per dare vita ad un ritratto di impatto dell'attuale situazione del mondo.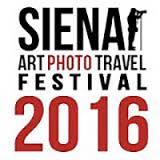 Sarà il fotografo inglese Timothy Allen a presentare questo aspetto della fotografia professionale, che verrà seguito da un mediometraggio cinematografico relativo a un lungo viaggio per il mondo chiamato "End of the Road".
Radicandosi a Siena, la mostra propone anche un incontro a cui hanno collaborato i reporter dell'Ordine dei Giornalisti di Toscana, che metterà in scena le immagini relative a "Fotogiornalismo e Reportage" nei paesi coinvolti dalla guerra, evento a cui si intrecceranno alcune personali dedicate all'importanza del concetto di salvaguardia del pianeta.
Un'opportunità culturale e fotografica quindi da non perdere, a partire dal 28 Ottobre, che potrebbe decidere della creatività infusa nei nostri prossimi scatti tematici, rivolti a noi stessi, ai nostri soggetti preferiti oppure al mondo intero.